While I was organizing my pantry when we first moved into our new home I somehow broke the pot of my fondue set. I calculated my movement wrong which I'm usually good at when reaching for stuff on higher shelves but not that day apparently. So I have been without a fondue pot now. I really miss having our chocolate fondue and cheese fondue nights. Since Christmas is upon us, why not start a Christmas Wish List of some sort, starting with a new fondue set.
I found my old one at a Goodwill for like $3 that's why I have been waiting to find a replacement and been checking out thrift store shops in the hopes of finding one that I'm willing to pay for. Until then, these are cool fondue set albeit expensive.
Chasseur Fondue Set from World Cuisine – $155.00

The strong and sturdy Chasseur Fondue Set from World Cuisine is ideal for both indoor and outdoor use. The Fondue Bowl comes in two different colors, twice enameled cast iron construction, 1 1/2 quart and 9″ in diameter. It's base is black cast iron with a wooden tray for extra support and stability. Accessories include a nickel burner and 6 color-tipped fondue forks. A great addition around your campfire or dinner table. Imported from France by World Cuisine.
Chocolate Fondue Set – $99.00

This Chocolate Fondue Set will add a romantic edge to any table top. This 7 piece set starts out with a white ceramic pot positioned on a stainless steel tripod. Includes 4 stainless steel forks. Pot measure 4 3/8″ in diameter and holds 1/4 quart.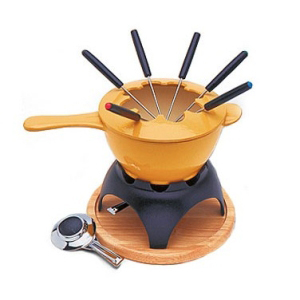 Paderno World Cuisine Chasseur Enamel Cast-Iron 1 1/2 Qt. Fondue Set. Tray: 9″ dia. – Red – $192.30
from: Kerekes kitchen & Restaurant Supplies